ScNotes (Secret Notes) is an app for creating text, graphic or audio notes with a password protection system and storing data only on your device.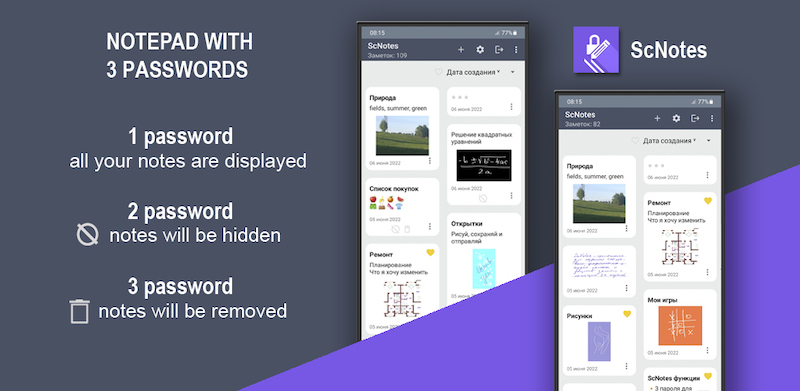 The app has the necessary minimum of tools for creating quick notes. You can enter text, draw or edit pictures, write with your finger with a special writing pen, or make audio recordings.
Use a system of three passwords to protect your data:
Password 1: main password for your login, all notes are shown
Password 2: notes marked as hidden will not be shown
Password 3: notes marked as deleted will be permanently removed, and hidden ones will not be shown
You can export your notes to PDF files, save created drawings (PNG) and audio recordings (MP3) to Downloads.
All data (notes, files, passwords) is stored only on your device.
Backup and password recovery are not provided.
The typed text of the notes is encrypted.
KEY FEATURES
Protect your data with 3 passwords
Enter text using the keyboard
Add pictures or audio recordings to your notes
Create graphic notes, simple drawings, sketches
Make voice recordings
Export your notes to PDF
Save your files to Downloads
Add notes to favorites
Sort by date or title