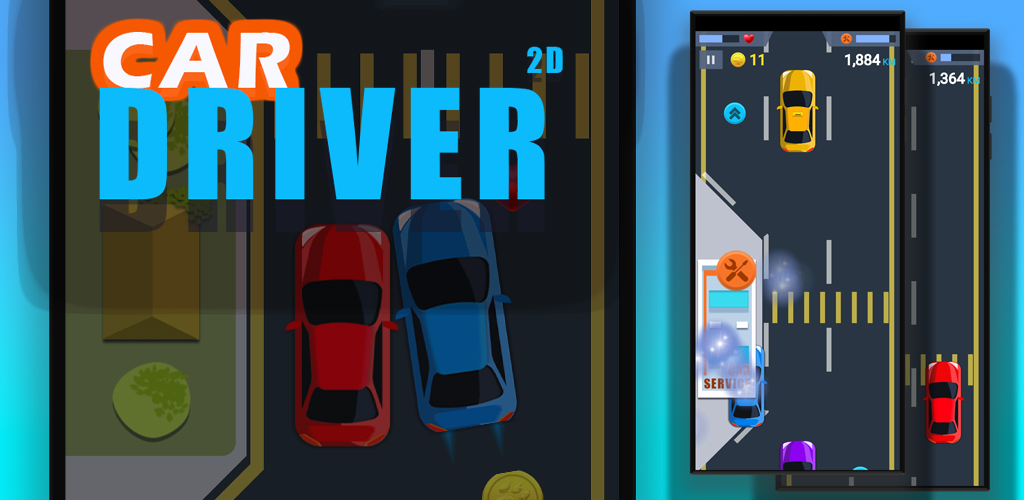 Car Driver 2D is a car driving game with racing elements, easy and fun to play
Drive your car on the city road, overtake cars and go around curbs. Try to drive as far as possible. Calculate your movements in advance: accelerate by collecting boosters or slow down by following a passing car. Driving to the side of the road or pushing cars will damage your car and reset speed bonuses. Don't run out of energy - collect hearts.
KEY FEATURES
2D-game
Smooth and realistic car handling
3 speed modes
2 game modes: Relaxed and Normal
5 car colors
GAMEPLAY
To turn left, tap on the left side of the screen
To turn right, tap on the right side of the screen
To slow down, follow a passing car
To accelerate, collect boosters, they increase the speed for 5 seconds
To fix the car, first collect the coins, then visit the car service on the way
To keep your energy up, collect hearts
GAME MODES
NORMAL Mode is a difficult game mode. Drive your car carefully and set new records!
RELAXED Mode is an easy and less stressful game mode. Almost endless game, if you keep an eye on the energy and condition of your car. You can safely enjoy the trip. Records are not saved in this mode.
TIPS
Damage to your car is caused by driving to the side of the road and pushing other cars, but your car is repairable
Choose the speed for you (I, II or III)
Sometimes it's better not to accelerate, but slow down, following a passing car, in order to collect the necessary bonus