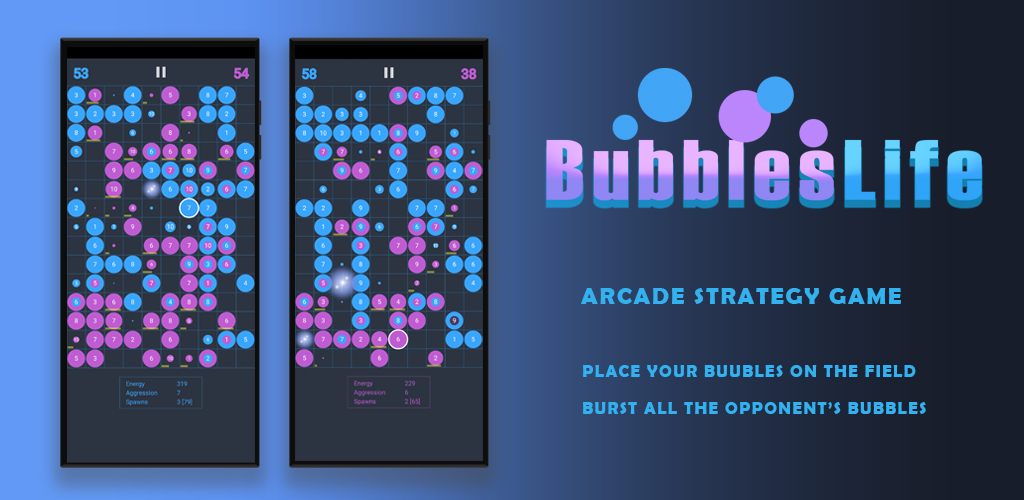 Bubbles Life is an arcade offline game with strategy elements
Bubbles live their own lives: they are born, grow, multiply, fight with neighboring bubbles and eventually burst. Each bubble has its own characteristics, for example, aggression, which can be from 1 to 10. A bubble with more aggression defeats an opponent's bubble with less aggression and takes its life time. Only you can influence their life.
The goal of the game is to burst all the opponent's bubbles on playing field
HOW TO PLAY
Tap on the screen to place your bubbles on the field and pop the opponent's bubbles. In the end, only your bubbles should be on the playing field.
TIPS
- Opponent's bubble is easy to burst at the growth stage
- Opponent's bubble that has grown can be burst by tapping on it
- By clicking on your bubble, you increase the duration of its life
- Remember that your opponent can also destroy your bubbles

The ability to assess a situation and react quickly is essential in this game. The game has 100 difficulty levels: the more you progress in the game, the harder it gets