Artwork «Misty Lake»





0
/
5
(
0
)
Watercolor painting on paper

Author: Ekaterina Gubina
Genre: Landscape, Nature
Size for web: 850 x 665 px
Resolution: 70–72 dpi
Format: JPEG

---
Description
Available size for web: 850 x 665 px, 70–72 dpi, JPEG format.

View of a foggy lake with an overgrown shore, surrounded by a forest, fog rises from the lake.

Keywords: landscape, nature, mysty, lake, autumn

RinaGu
ID: LC181
To purchase a license for any use, please fill out the form below.
Content Usage
Free use
All rights to published artworks on this website belong to their author. You are welcome to post or share artworks from this website with a hyperlink to the source and specifying the name of the author. Use share buttons or just copy the link. Images can not be edited or cropped. Learn more about restrictions before use.
Licence
If conditions of free using are not suitable for you, you may buy a license:
For designing your website, blog, webpage: as a design element (cover photo, background, main picture)
For editorial non-commercial use: to illustrate an informational material (news, articles, posts)
For an advertising campaign on the internet: Google Ads, Instagram, social networks
For any commercial use
For any printed products or materials
For personal or home use, for example, posters, interior decoration or a card for an invitation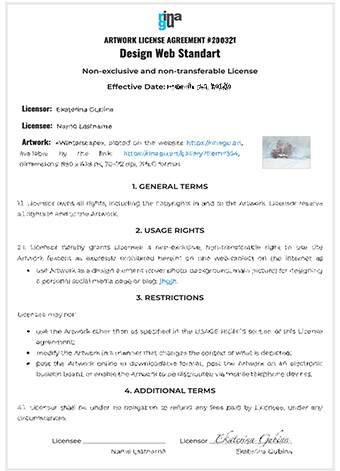 Look at the gallery and choose an artwork for yourself!
By purchasing a license, you get permission to use an artwork direct from the copyright owner.